Bienvenidos Titans!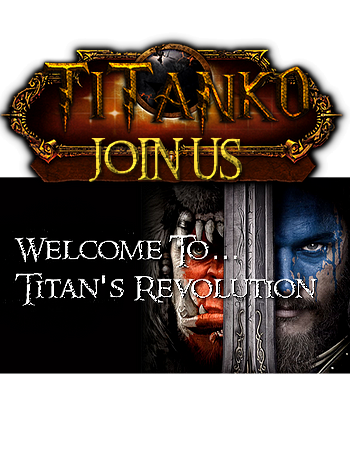 Contenidos
1)Introducion de creation de personaje.
2)Sistema de votación.
3)Niveliando.
4)Farmeando Armaduras.
5)Farmeando Armas.
6)Farmeando Accesorios.
7)Farmeando/Comprando Volutas.
8)Misiones.

----- Creation de personaje. -----
La primera decisión que tienes que tomar en el juego y por largo la más dura, será la decisión que decide si tu tiempo en Titan es uno agradable o uno no tan agradable sería jugar en la nación de orcos o en la nación de los humanos.
El Guerrero
El Guerrero es por largo la clase más fácil para jugar. Aunque se tan monotono si eres un jugador que a recién empezado este juego es muy recomendado que jueges esta clase. Los guerreros tienen la vida más alta en el juego su defensa y ataque es buena igualmente, un guerrero es lo que todos expectan de un guerrero. Sus características principales son su defensa alta, ataque alto y su fuerza de poder cargar más cosas en su inventario. Además de todo la clase es muy versátil en escogiendo armas, puedes usar armas de una mano o armas de dos manos, más que qualquier otra clase.
El Picaro
El pícaro puede ser un assesino o un arquero, son unas de las clases menos dependiente, con las abilidades de hacerse moverse más rápido que cualquier otra clase, hacerse invisible, ver enemigos invisible, ayudar a otros moverse más rápido, curar maldiciones y darle más ataque a su fiesta. Los asesinos son restringido a dagas y arqueros a arcos. Los asesinos tiene un ataque devestadores en el siento de el daño que causan comparada a cualquier otra clase, mientras los arqueros tiene el advantaje de distancia. Los pícaros en mi opinión es unas de las clase que demanda lo más de habilidad. Está clase es la mejor para jugar solo sin una fiesta.
El Mago
El mago especializa en tres elementos fuego, hielo y relámpago. Fuego es el elemento que causa el más daño, hielo ralentiza y relámpago aturde(frisa). Los magos son único porque sus conjuros que dañan una cierta zona que se llama zona de daño que le causa daño a qualquier enemigo en el radio de lanzamiento,además los magos pueden teleportar miembros de su fiesta individualmente o todo su fiesta a su pueblo. Los magos usan un baston. Magos son mejores en una fiesta de magos con todos usando conjuros de zona de daño. Con una fiesta de mago no hay nadie que no partan en sus zona de daño.
El Sacerdote
Sacerdotes son único en la manera de que cualquier fiesta necesita uno, es una clase esencial para juego en equipo. Pueden serse la habilidad de darle fuerza a sus fiestas(llamados Buffers), o en haciendo el equipo enemigo más débil y resurrección de amigos muertos(llamados duffers)y curando los dos maldiciones y vida de sus fiestas. Hay dos categorías de sacadortes INT(sacedorte de inteligencia) y BP( sacerdote de batalla)
.....
Sistema de Votación
.....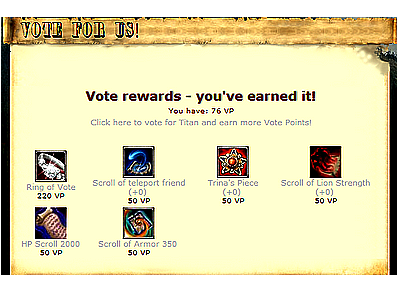 .....
Niveliando
.....
Nivel 1-59 (Gusanos en Moradon)
Nivel 59-80(Spoilers en Luferson/El Morad)
Nivel 80-85 (Draculas en Colony Zone)
.....
Farmeando Armaduras
.....
Hay muchas variedades de Armaduras que puedes conseguir.
Valkyrie Armour(via PUS)

Hero Armour farmeando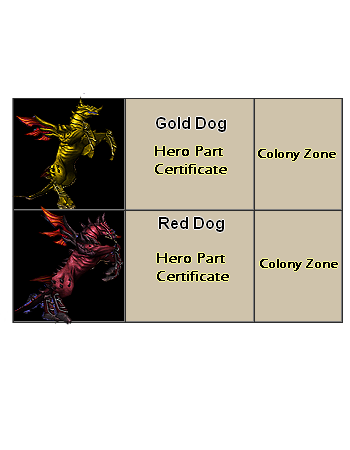 Dragon Flight Armour para (Guerrero)
Mythril Armour para (Pícaros)
Rons Armour para (Mago)
Trial Armour para(Sacerdote)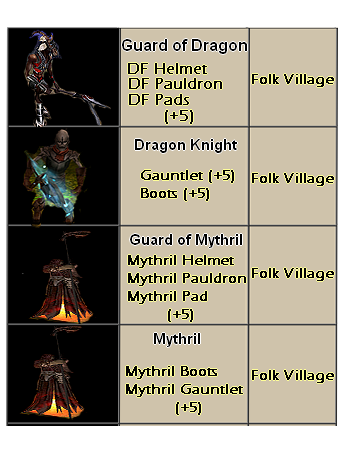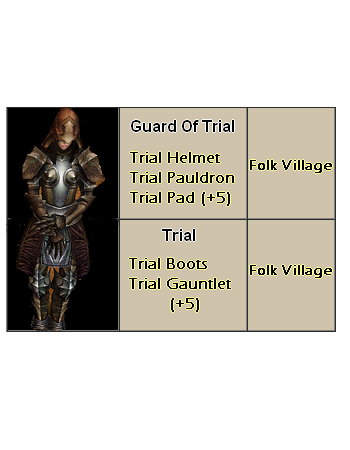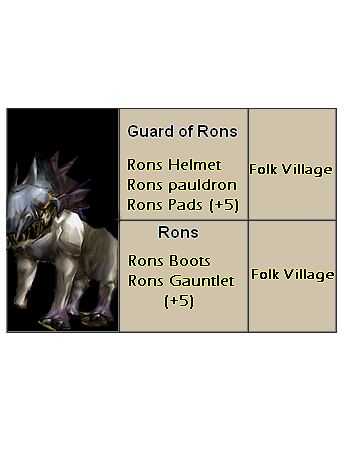 .....
Juraid
Monument
.....
Armadura de Spirit Guerrero
Spirit Mage (Casco)
Spirit (Hombrera)
Spirit Guard (Almohadillas)
Spirit Ravage (Botas)
Spirit Angel (Guantes)
Armadura de Spirit para Sacerdote
Spirit Mage (Casco)
Spirit o Spirit Entropius (Hombrera)
Spirit Guard (Almohadillas)
Spirit Ravage (Botas)
Spirit Angel (Guantes)
Armadura de Spirit para Pícaro
Spirit Mage (Casco)
Spirit o spirit Entropius(Hombrera)
Spirit Guard (Almohadillas)
Spirit Ravage (Botas)
Spirit Angel (Guantes)
Armadura de Spirit para Mago
Spirit Apostle (Casco, Guantes y Botas)
Spirit Entropius (Hombrera)
Spirit Guard (Almohadillas)
Darse Cuenta:
La Armaduras Valkyrie tiene los mismo estadísticas que la armadura
Hero
, la única deferencia es la mirada. Valkyrie solo se puede conseguir en el POWER UP STORE.
.....
Farmeando Armas
.....
Farmeando Armas Tier:
La Manera(Knight Castle)
Gold Dragon:
Daga Tier Garujesu+3
Cuff Binder:
Lanza Tier Garujesu+3 y Espada Tier Garujesu+3
Felankor:
Arco Tier Garujesu+3
Red Krowaz:
Escudo Tier Garujesu+3
Tarantula:
Mazo Tier Garujesu+3
Abomitarantula:
Baston Tier Garujesu+3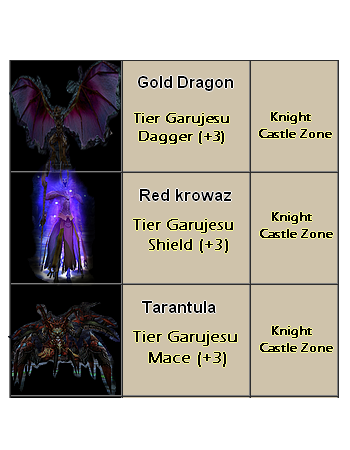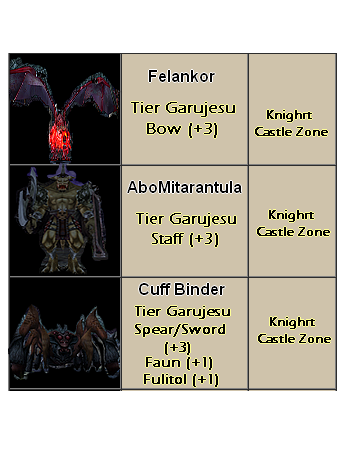 Darse Cuenta:
Faun/Raum/Nebiros/Wirinom/Molok/Fulitol/Windforce/Baal, todos pueden ser farmeado en Knight Castle
PFB se farmea en juraid.
Darkness es Farmeado en Luferson/ElMorad en los zombies.
.....
Farmeando Accesorios
.....
Accesorios se farmean en Colony Zone
Troll King da PE +1(Eslant)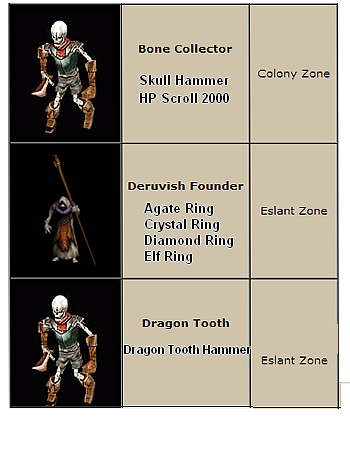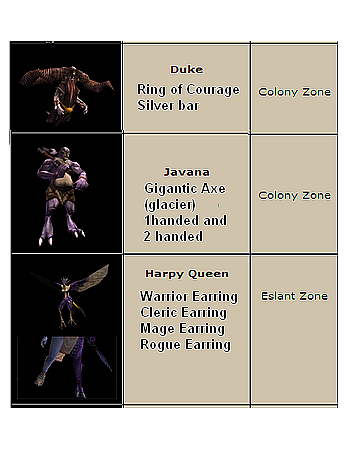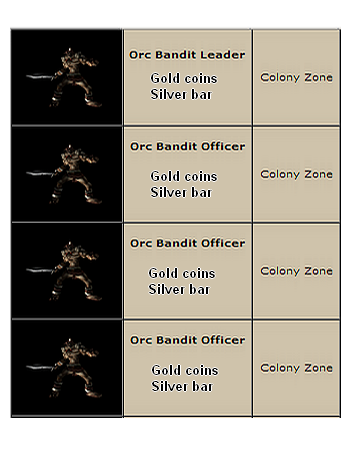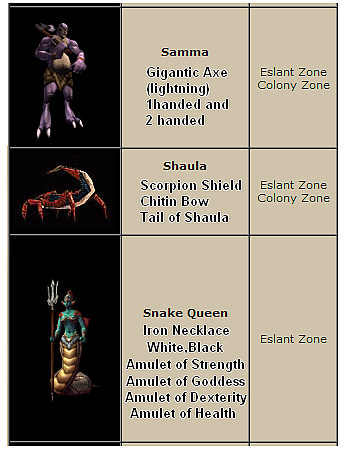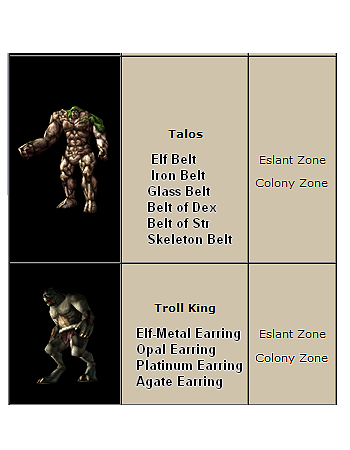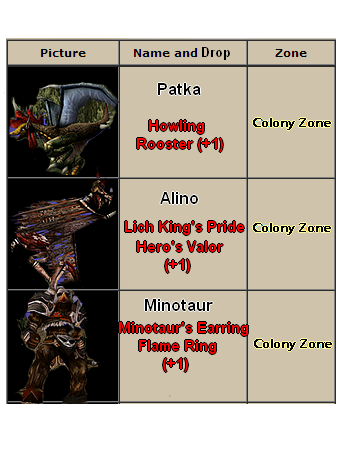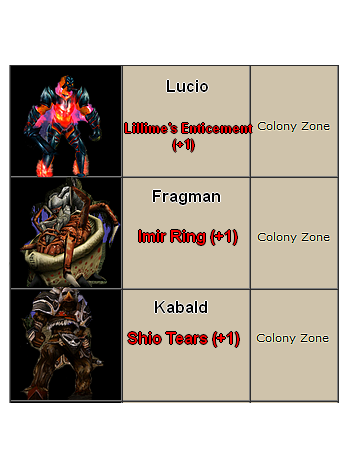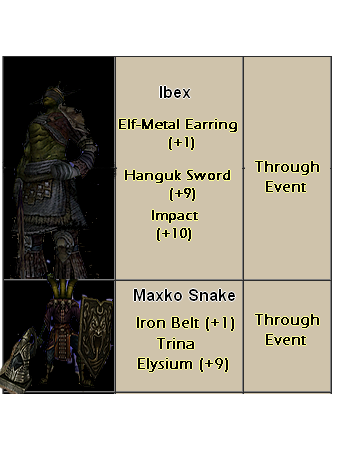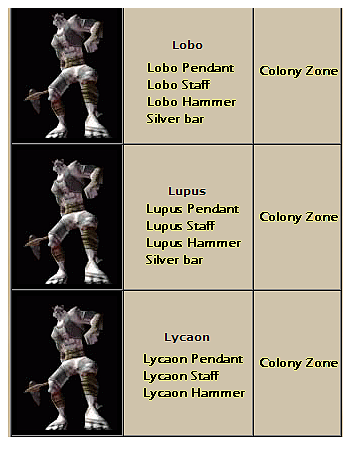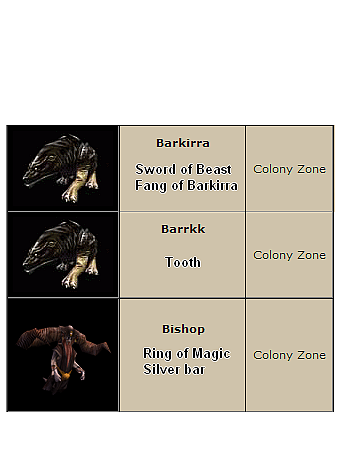 ......
Farmeando y Comprando Volutas
.....
Ustedes pueden comprar Speed scroll, Attack scroll Bonus attack scroll (DEX,STR,HP,MP) y volutas de Weapon/Armour Enchantment/Scroll de Hp de 2k/350 Def de los sundries locado en Moradon/Colony Zone/Luferson/EMC
Los volutas de hp2000 y def350 se pueden farmiar de BoneCollector/BurningHeaven.
Los volutas de upgrade se farmean de Skeleton/DeathKnight/Lycan pero la tasa de conseguirlo es solo %10 igualmente se pueden comprar de Charon (Scrolls)
Tasa de Actualizacion

De +1 a +2 %100
De +2 a +3 %100
De +3 a +4 %100
De +4 a +5 %100
De +5 a +6 %90
De +6 a +7 %85
De +7 a +8 %70
De +8 a +9 %60
De +9 a +10 %30


De +8 a +9 %90
De +9 a +10 60%

De +1 a +2 %100
De +2 a +3 %100
.....
Misiones
.....
Tempest (Black Market)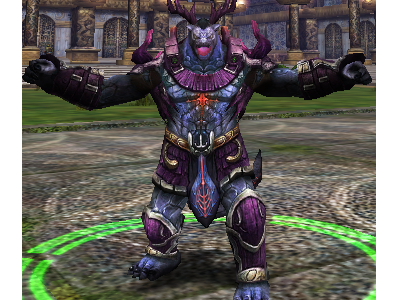 Misiones Repetíbles
Misiones que no se pueden Repetir
Darse Cuenta:
Estas Armaduras solo se pueden conseguir una ves (NO SE PUEDEN REPETIR)
Misiones De EMC/LUFERSON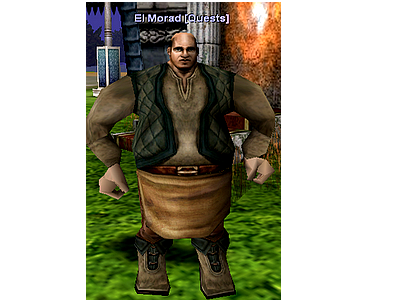 Traer 30x Pincer Poison de(Pincer Scorpion)Recompensa:
30m
Traer 30x Blood of Glyptodont Recompensa:
40m
Trae 50x Poison Sack Recompensa:
Darkness Weapon el que quiera escoger
Trae 100x Zombie Eyes de (Decayed Zombie,Rotten Eyes,Undying) Recompensa:
50m
Trae 20x Cursed Bone de (DeathKnight) Recompensa:
5m
Trae 80x Bone of Dragontooth Recompensa:
40m
Mision de NP
Traer 50x low quality jewel para recibir 2k nps (Más rápido por spoilers)
Mision de NP 2
Traer 20 Opal, 20 Crude Saphires, 20 Crystals para recibir 5k nps
Si tienes algunas question porfavor pregunté o deje una respuesta en este tópico si encuentra algo que no está en este tópico sería genial si lo dejan en una respuesta.